Environmental activists who have cheered the ongoing power transition in the United Kingdom — which went a record 18 days and 6 hours of powering its electric grid without using coal — are overlooking an inconvenient fact for their cause. The UK was able to maintain its grid stability by increasing its use of natural gas, an energy source that activists have demonized even though it helps reduce greenhouse gas emissions at a greater rate than renewables.
The UK's latest coal-free run followed streaks of nearly four days in April and an additional week in early May. All of these were made possible by clean-burning natural gas — including a growing share of American gas imported as LNG — which has helped the power sector reduce its emissions levels to 25-year lows. Natural gas also accounts for the largest portion of the UK's energy mix at 42 percent.
Activists contradict themselves on natural gas
Yet environmental activists who cheered the UK's reduction in coal use hold the contradictory view that natural gas is dirty and should be phased out, rather than recognizing how natural gas makes it possible for the UK to meet clean-air goals.
Activist and scholar Geoffrey Supran cheered Britain's "fortnight of continuous coal-free electricity" with a reminder that Great Britain's Electricity System Operator estimated that by 2025 the electricity system would produce zero carbon.
Geoffrey Supran
@GeoffreySupran
Britain's first fortnight of continuous coal-free electricity since the Industrial Revolution seems a good time to remember that the Director of GB's Electricity Systems Operator @ng_eso believes "by 2025 we will be able to fully operate GB's electricity system with zero carbon."
Carbon Brief
@CarbonBrief
+++BREAKING+++
Great Britain has been running for a record TWO WEEKS without using coal to generate electricity – the first time this has happened since 1882.
The country's grid has been coal-free for 45% of hours in 2019 so far.https://www.carbonbrief.org/countdown-to-2025-tracking-the-uk-coal-phase-out …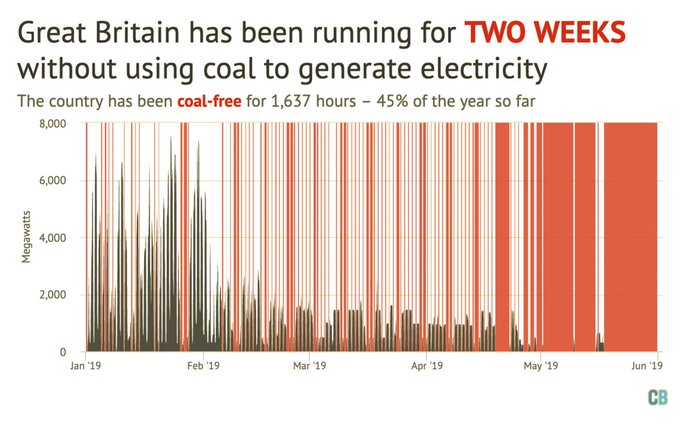 However, a day earlier, Supran had promoted a news story that criticized natural gas as an alternative fuel source that produces less carbon than coal.
Geoffrey Supran
@GeoffreySupran
"Supporting continued buildout of natural gas in the US is not 'moderate' climate policy, nor a 'middle ground.' It is an admission of failure, an acknowledgment that the US will not do its part...No candidate should get away with claiming otherwise." https://www.vox.com/energy-and-environment/2019/5/30/18643819/climate-change-natural-gas-middle-ground …
More natural gas isn't a "middle ground" — it's a climate disaster
To tackle climate change, natural gas has got to go.
vox.com
66 people are talking about this
Similarly, Doug Parr, the policy director for Greenpeace, was quoted saying, "Just a few years ago, we were told Britain couldn't possibly keep the lights on without burning coal. Now coal is quickly becoming an irrelevance, much to the benefit of our climate and air quality, and we barely notice it." This was in keeping with the Greepeace UK Twitter account which had celebrated the UK's two-week streak for using zero coal.
Greenpeace UK
✔
@GreenpeaceUK
Two full weeks without coal!! 🙌
Something to celebrate in a Trumpy week. http://act.gp/2QG57W2 #EndCoal #ClimateEmergency #TrumpVisitUK
UK goes a fortnight without burning coal for first time since indust…
Britain has gone two weeks without using coal power for the first time since the industrial revolution, smashing its previous record of eight days set earlier this month. The milestone, which will
independent.co.uk

However, Greenpeace UK's clean energy campaign calls natural gas a "dirty energy" source and calls for the UK to stop using it along with coal and oil. These activists are seemingly unaware that the coal-free weeks they are championing are made possible by the availability of more affordable and cleaner-burning natural gas, much of it from the United States.
United States LNG Exports can help clean transition
Like the United Kingdom, the United States has increased using natural gas to produce electricity over the past two decades. This development was made possible by the fracking revolution.
The UK is also benefiting from fracking in the United States, and may be able to further increase its use of natural gas. Since 2016, the UK has increased the amount of LNG cargoes that it imports from the United States each year, and is set to do the same in 2019 as its need for natural gas has not faced the usual decline that it does in warmer months. It's unsurprising then that after seeing a record high month in April for importing LNG into the UK, the country was able to further reduce its use of coal for electricity generation.
Yet environmental activists in Europe have been against LNG shipments from the United States, preferring to cut Europeans off from a safe and reliable supply of energy. The Food & Water Water Watch Europe sent an open letter to the European Commission and U.S. Department of Energy requesting a halt to U.S. liquefied natural gas exports to the European Union.
Groups like Greenpeace joined in signing this open letter, vocalizing their support for an end to LNG, which contradicts their desire to the UK to reduce its use of coal in favor of cleaner alternatives.
Activists who want the UK and the United States to make use of cleaner energy sources cannot have it both ways—without natural gas, neither country would be able to reduce its carbon emissions and transition towards cleaner economies. The UK's use of a cleaner fuel source deserves the cheers that it is receiving from environmental activists, but natural gas deserves as much accolades for its part in reducing carbon emissions.